Day 7 - Saturday 21st April 2018 - Balloon Flight
As I mentioned in last year's travelogue,
Het Ballonnetje
was the first 'serious' coffeeshop I ever visited, way back in the 1980s and I've loved it ever since. Last year, however, it went even higher in my estimation when they treated us to a very special session. And now this year they've invited us back for more!
So, that's the plan for today, which is yet another lovely sunny day, incidentally.
In the meantime, last night's THsyrup has taken its toll. It feels like I'm swimming through syrup this morning. My limbs are heavy and the thick syrupy air resists all movement.
Nevertheless, the sun is streaming in through the skylight in the apartment so I decide to have a go with the (poor) macro mode on my camera before I head out.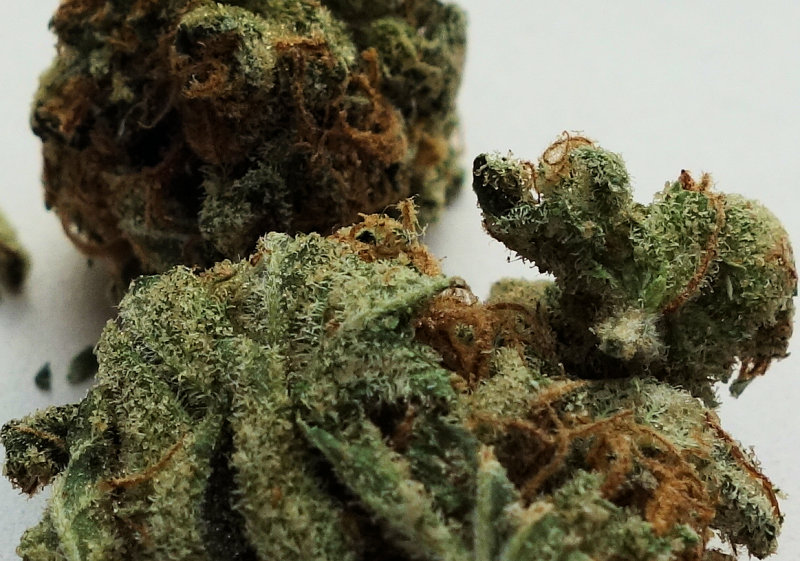 Citral
With that I set off for Het Ballonnetje, photographing coffeeshops along the way.
We've arranged this session as a climax of the 4/20 week, when lots of Forum members are still in town and most have managed to catch up with the tour party. Last year we only had a couple of hours in Ballonnetje before we were expected at the Stud but this year we don't have anything else on the schedule until OneHighMofo's poker night at 7pm this evening. This has good prospects of being quite a party!
I'm feeling that nervous anticipation as I stride along through the sunshine. Around Spuistraat, along and across the Amstel River, turning left just before the sluice gates onto Nieuwe Prinsengracht and Nieuwe Achtergracht. Crossing the busy Weesperplein, the shiny bridge-shaped university building is straight ahead.
And so into Het Ballonnetje, where an ACD posse is already assembled. A nice t-shirt appears from behind the bar followed by lots of jars.
That's it. Reality has been switched off again. The camera still seems to be snapping away though so this is what I would be looking at if my brain was functioning:
jars, ...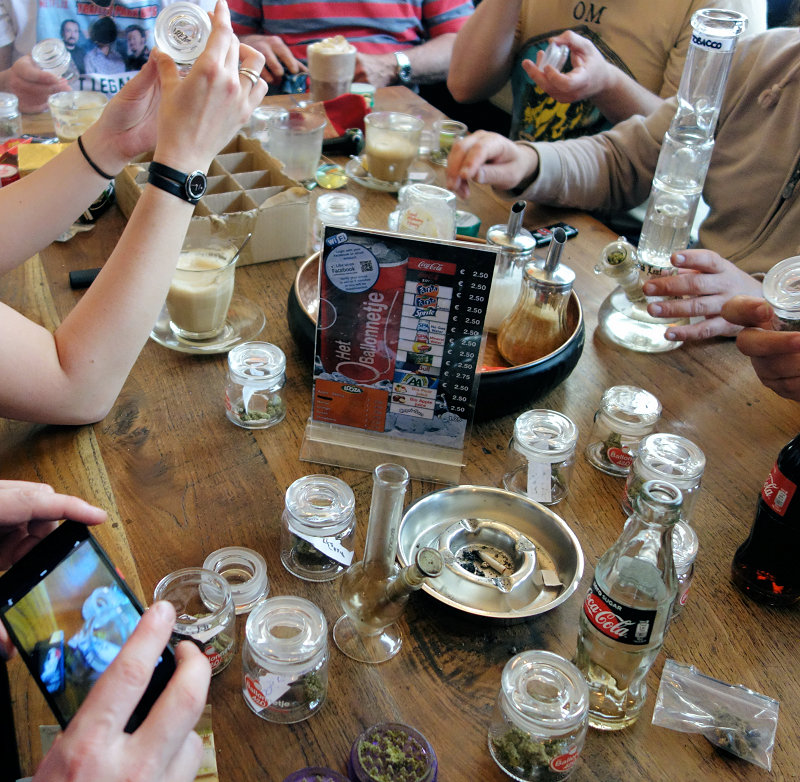 ... jars, ...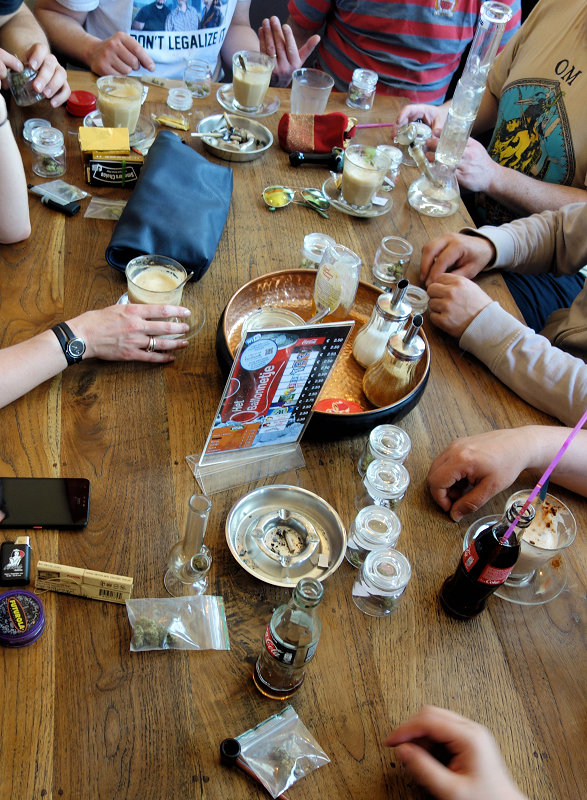 ... jars, ...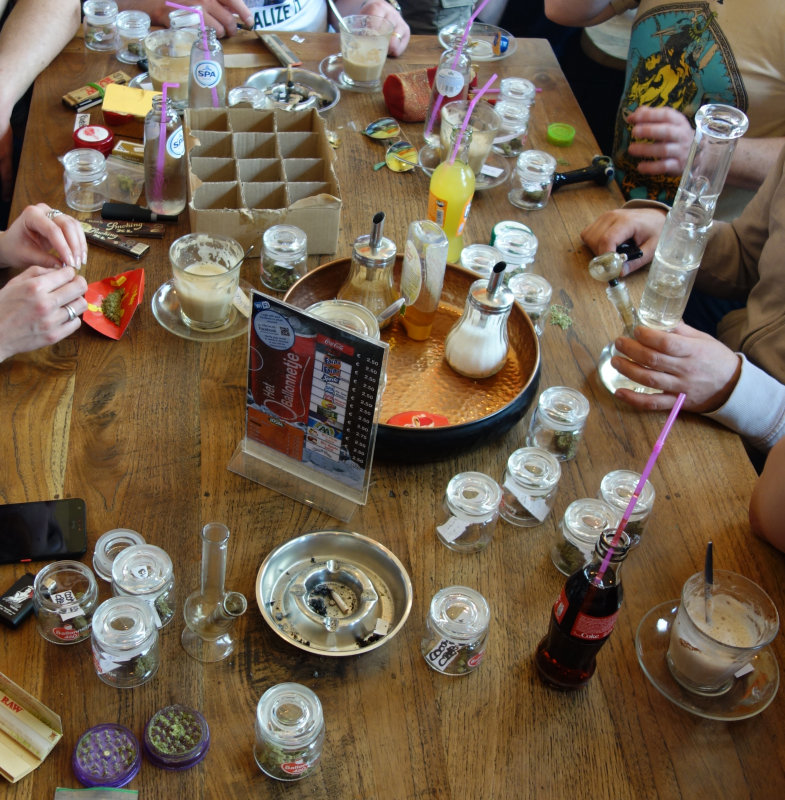 ... jars, ...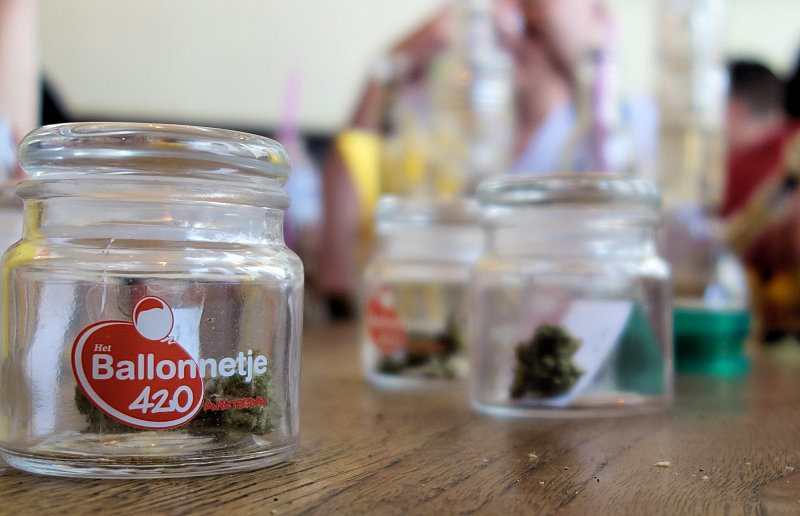 ... jars, ...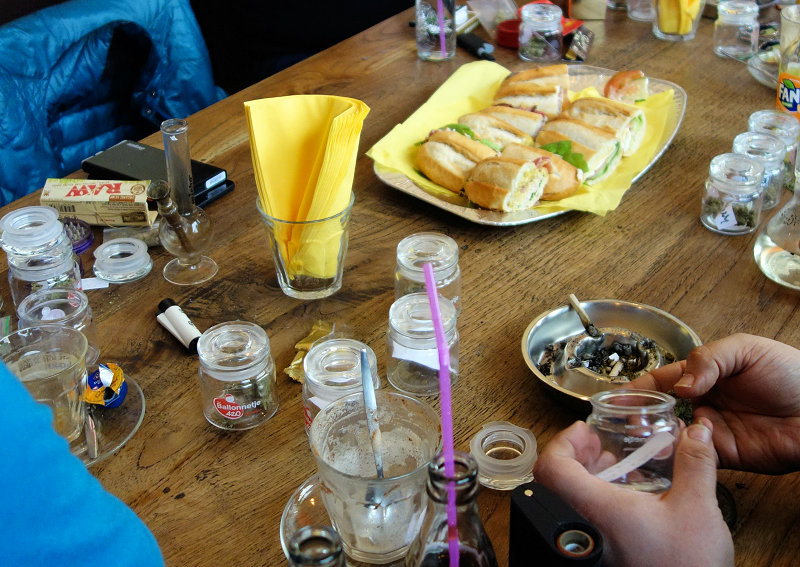 ... and food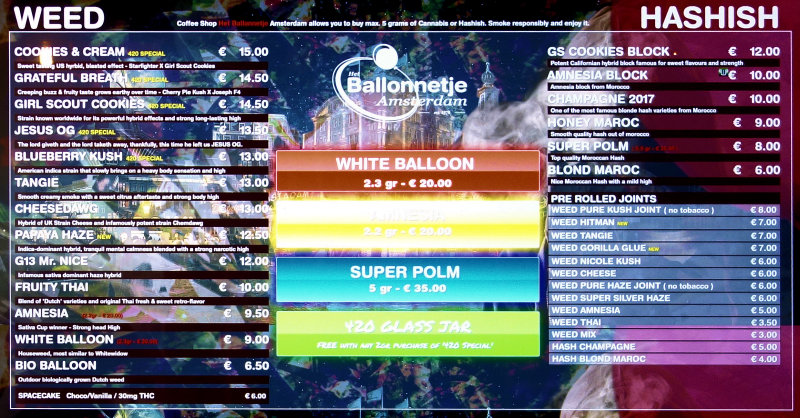 The menu
I know it was an amazing afternoon. Much thanks to Het Ballonnetje for thoroughly spoiling us. Extraordinary hospitality.
Before we leave, someone pushes a jar, that still has a bit of something inside it, in front of me and suggests that I should take it with me. In the end I somehow become separated from it but I'm not too concerned because it felt a bit greedy to taking it anyway.
We finish the afternoon in Utopia before we scatter for fodder. Here I again get presented with a Ballonnetje jar. We promptly vape the contents and the jar makes its way into my luggage for the journey back to ACD HQ where it will become my stash jar.
The evening session is in Batavia as usual and this is my last night so it's smokeup time (I don't know whether the poker night happened, incidentally).
The big window is open and, as I finish loading up a serious joint, a gust of wind blows the entire contents across the floor! At that point I decide to go check out the other half of the party.
Over at Utopia I find the rest of the crew and finish off my stash with them.
And so ends another wonderful day and, at least for me, 4/20 week is done for another year. Thanks to everyone who came along and made it such fun.
Here's my cast list. If I've missed you out please let me know.
2stick
Choppermike + son + gf
Colina
Comus
CopenhagenCouple
DeLekkersteNUGS16
Devore
Dolby (aka james_the_lurker)
Drugsbunny
Ed the Head
Fat_old_dwarf
Gapie
Ingi Blingi
JayBee420
Kenshiro
Kermit
Kushola
Lemming
Macky and Mrs. Macky
Madmaxxx
Nel Z Bub
Ohm Sweet Ohm
OneHighMofo
Pierre von Mondragon
RoMoney
Smirks
Tuttiflutes