Day 1: Sunday 15th April 2012
Hestia had invited everyone to dinner at her apartment at 6pm but, unfortunately, our flight was too late for that so we had to decline our invitation.
Nevertheless, when we arrived about 7pm, we were on a mission.
Well, at least I was on a mission anyway.
My girlfriend, J, probably wasn't quite sharing my sense of urgency
.
On the way from Centraal Station to our apartment on Klovniersburgwal I Popped into Voyagers, complete with large rucksack, hoping to make a flying purchase.
There was a long queue at the bar and little room for me and my rucksack inside so we carried on up the canal towards Nieuwmarkt.
First taste of real Netherlands: stopped at Albert Heijn.
Bought basic supplies to take back to the apartment, including a carton of Chocomel. Mmmm!
As fellow Chocomel fans probably know, these cartons are much bigger than the tiny bottles in coffeeshops, and cheaper too.
Drop stuff off at the apartment and I'm soon rushing the girlfriend off again to grab weed and pizza.
Flying visit to Rusland where I bought Cheese Haze and Thai (as a tobacco substitute mixer).
My camera isn't good at macro but I did take shots of these two: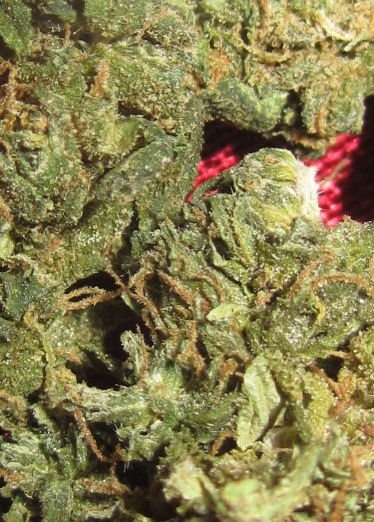 Rusland Cheese Haze and Thai
The mission and rushing around was completed when we fell into the Nes soon after 9.
After all that rushing, I was slightly disappointed to find only two people waiting for us.
Not just any people, though, they were DC and Stuart1976.
This gave me a chance to have a quick chat with them before I got too stoned to communicate.
I'd met Stuart briefly before and it's always good to see DC so the company was excellent.
Stuart handed me a joint stuffed with samples of everything he'd bought during his stay so far.
DC also gave me joint with special things in it.
Things were going to get messy very quickly!
People often ask me to include bud reviews in my travelogues but it really is hopeless.
All I know is that I smoked a lot of different stuff and got very stoned!
There are posts on here where people say they'll get me very stoned next time they see me.
Many deliver on these promises, for which I'm very grateful, but I couldn't tell you what I smoked or which was best.
At one point I was trying to explain this to someone in my stupor.
I said something like "people are always threatening to stone me if they meet me in Amsterdam and many do".
They didn't hear all of what I said, which was probably slurred, and only caught the word "threaten".
They looked quite concerned until I had another go at explaining
Anyway, back in the Nes, we settled in at the big table that Stuart had managed to commandeer for us and started work on the two killer joints.
As we disappeared in a cloud of smoke, the rest of the party arrived.
Dinner at Hestia's had climaxed and they all came to join us in the Nes.
Led by our intrepid cat herder, Gapie, the gang trooped in.
There was Hestia, Trad, KeyChains, BigGuy & Son, Islandgurl and Philly-Rich.
More joints prepared earlier emerged and I was encouraged to try them all.
Names of the exotic contents were banded about but I can't remember any of them I'm afraid.
A stream of extra long Volcano bags began to appear from behind the bar and our first night rapidly descended into a very stony affair indeed.
As the evening progressed, more members turned up. Tuttiflutes and Ohm Sweet Ohm, Worsall and Nel Z Bub from Utopia.
Trad was furtively trying to show me the awards he had brought for Gapie and DC under the table.
I think that the original plan was to present them on the 20th but it was getting hard to keep the secret so he decided to hand them over immediately.
Trad presented DC with his plaque and asked me to hang the medal around Gapie's neck.
I made an effort to do the honours as ceremoniously and theatrically as possible.
Unfortunately neither J nor I had our cameras with us that night but I believe KeyChains got some pictures.
I'd love to see some of those posted up here.
I did get lots of pictures of Gapie's medal later in the week but never saw the Nes plaque again.
Also that night Hestia kindly gave me a fantastic Reefer Madness t-shirt.
I wore that as many times as I dared during the week until it definitely needed a wash.
Day 2: Monday 16th April 2012
We had no T&Ts arranged for Monday so I let the girlfriend lead the way.
We wandered through the flower market, popped into Dolphins, checked out some art galleries and toured Vondel Park.
On the way back to the apartment I snapped this pic of Basjoe at dusk.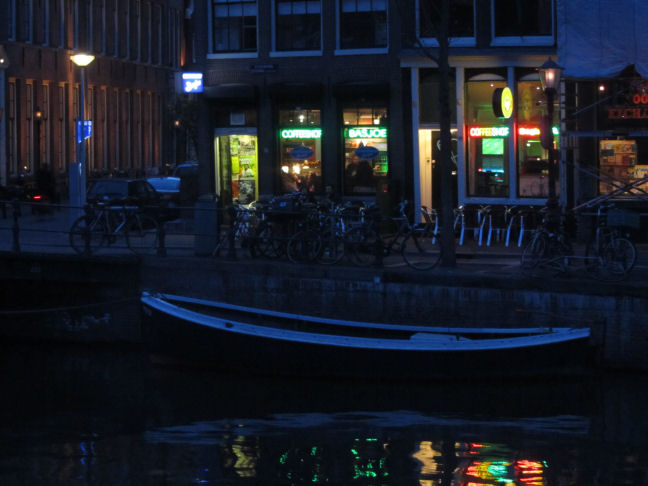 We finished the evening in the Nes with Gapie, KeyChains, TheBoy and Worsall.
This time I had a camera with me and got some pics of Gapie's medal.
Day 3: Tuesday 17th April 2012
There were a few events lined up for Tuesday starting with a Wake and Bake at 1e Hulp.
We didn't make it to that but, apparently, it was well attended by people more together than J and me.
We caught up with the crew at Club Media ready for Hestia's crawl around the Albert Cuypmarkt area.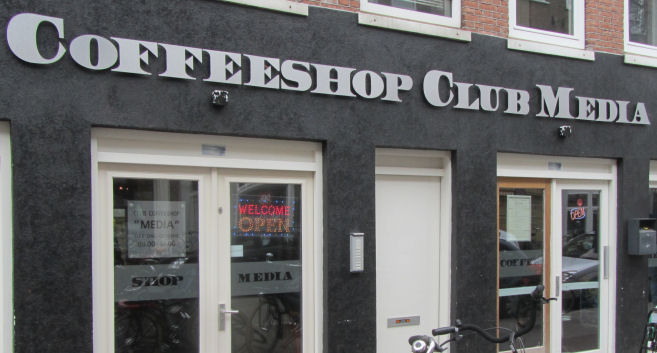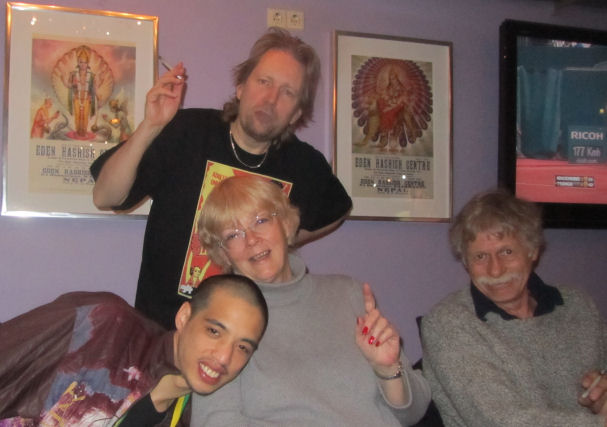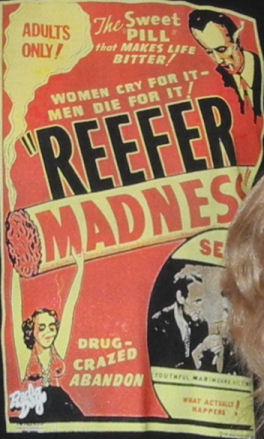 Here's the Reefer Madness t-shirt that Hestia gave me.
We managed to set off the fire alarm in Media before we left!
The party of us set off through the market.
People disappeared into shops and then, miraculously, gathered together again.
I think there was Trad, BigGuy, KeyChains, Hestia, Gapie, YogiBear, Colina, J and me, but some may never have emerged from the market.
One way or another we all assembled outside D+L and a scouting party entered and then, almost immediately, emerged again.
I'm not sure what the problem was but we were soon in Ibiza.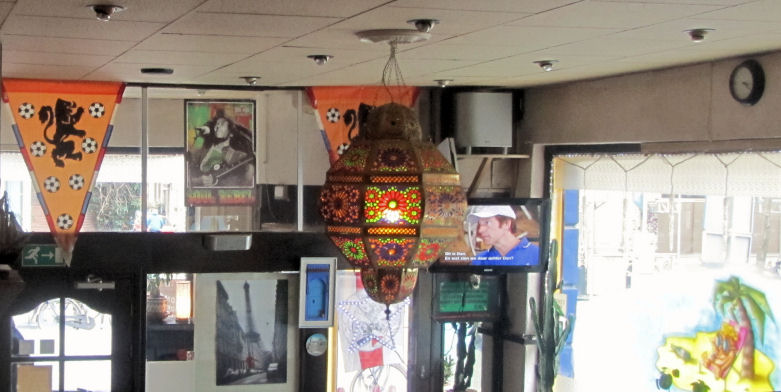 Ibiza
From there we went to YoYo.
This is a lovely place to sit outside on a sunny day but, on this occasion, it was a bit wet and very windy.
Inside is nice too though.
And so the crawl went on…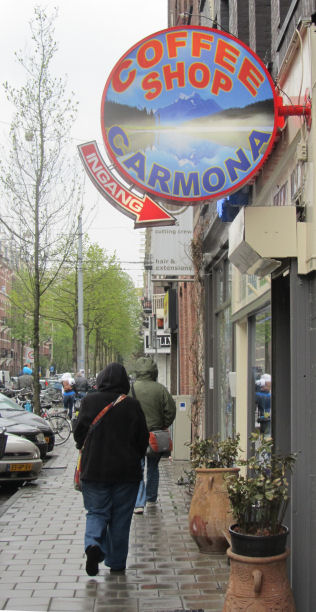 Passing Carmona without stopping we headed towards Sarphatipark.
We didn't stop there either as, just before we got there, we veered off to gather outside Nice Place.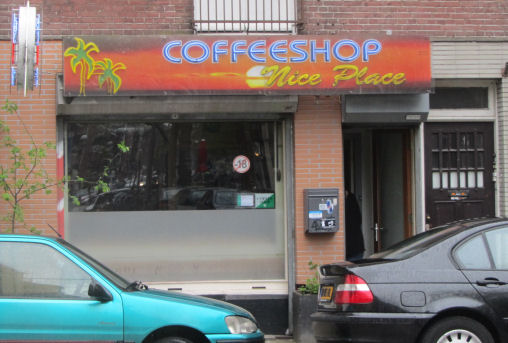 Again, a small group popped in and rejected it for some reason so we continued to Papillon.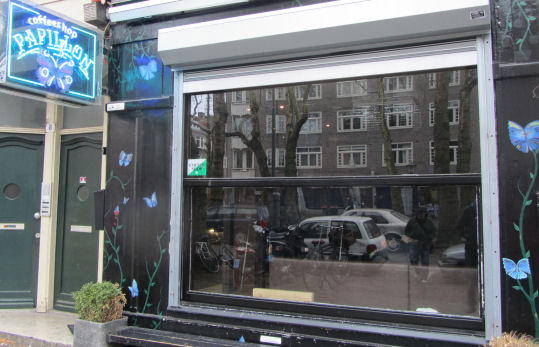 We skipped Graal and anywhere else we'd intended and went straight from Papillon to Katsu.
Katsu and Chips
There we found Blueberry, Nimrod, Islandgurl and Philly Rich waiting for us.
Another serious session began.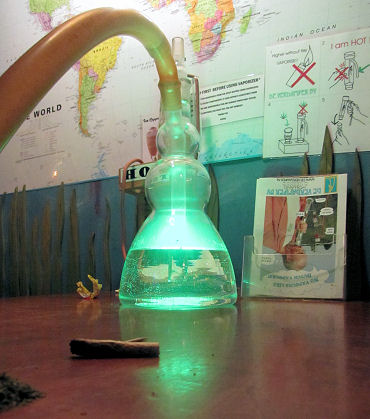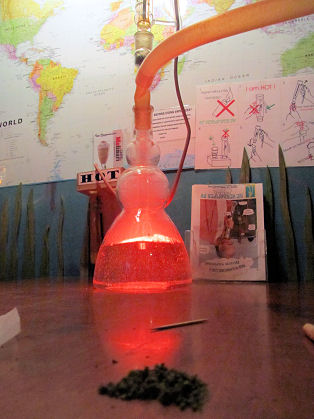 Later that evening we popped into Rusland and ended the night at the Nes with Nimrod, Trad, TheBoy, BigGuy, KeyChains, Gapie and Colina.
A very successful day I thought.
More to follow ...