It's been a while since the last episode
but I found this partially complete account of Saturday so I just finished it off and here it is.
Day 6 - Saturday 22nd April 2017
With J (my partner) in tow, things have slowed down a lot now.
There's absolutely nothing on the official schedule today so I tell J that I'm at her disposal if there's anything touristy she'd like to do. It turns out that there isn't and that she's quite happy to try to catch up with the ACD crew if anyone's still about. That being the case, I post on the forum that we'll get to Utopia at 3pm.
With that, we saunter out for a late breakfast at our favourite café.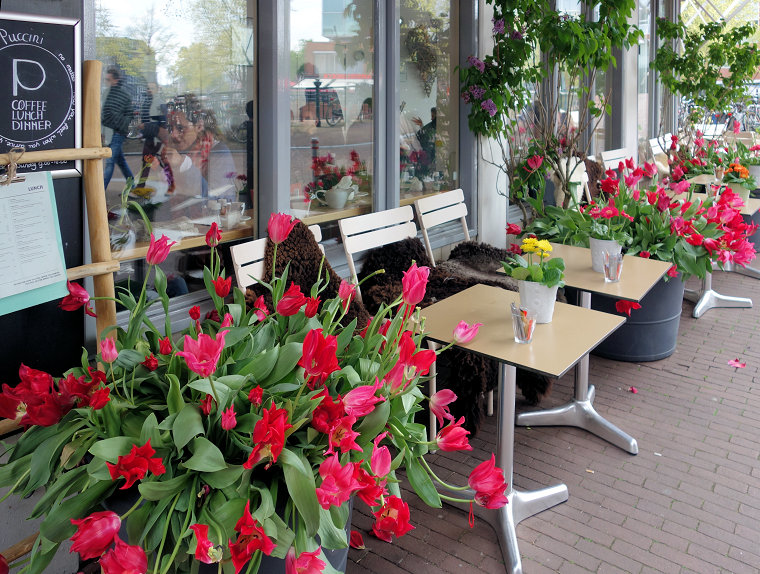 Puccini
It's on a sunny corner opposite Waterlooplein market and is very small. The kitchen is a cramped corner of the room where prepared salads magically emerge from stainless steel drawers. Focaccia with roast courgette, aubergine, pepper, sundried tomatoes, avocado and pesto goes down very well with me.
Our relaxed pace means it's soon time to head over to Utopia.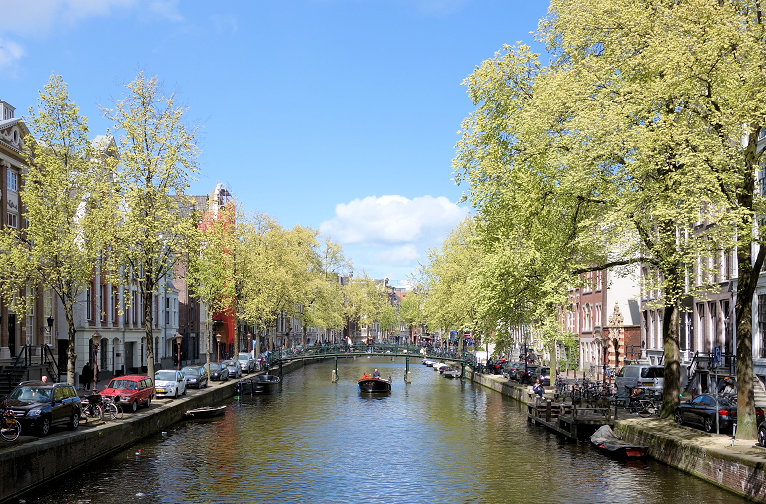 Amsterdam is looking pretty in the spring sunshine today
At Utopia we find Smirks, Papi, Gapie and Mr & Mrs Macky. Just the kind of crew you need for a good session.
After a couple of hours of serious sessioning, J drags me off for some shopping on Nieuwendijk and Kalverstraat. Well, I say shopping. What seems like many hours of walking in and out of shops doesn't seem to result in any purchases. Still, maybe that's a good thing.
In Utopia we had arranged to meet at 420 Café (de Kuil) for the evening. So, the slow-paced vibe of the day continues through dinner and then we head down to Oudebrugsteeg.
It's a busy Saturday night in Amsterdam and, when we get to 420 café, we find Matty, Macky, wife and brother in law, Omnibuz and Danny waiting outside. They tell us that it's full inside so we all wander around to Hill Street Blues.
HSB is also full. This really is a busy Saturday night!
We cross the road and go into
Bones and Co
. At least there's room in here.
I used to frequent this place when it was the Greenhouse Effect Hotel bar back in the nineties and naughties. Back then it had the
Greenhouse Effect coffeeshop
next door and DJs playing in the bar on a Saturday night. At the rear was a comfy seating area where we spent many late evenings after the coffeeshops had closed.
[Incidentally, I think I read a post recently suggesting that Greenhouse Effect is part of the Arjan's Greenhouse chain. As far as I know, that's not the case.]
The rear section is now a partitioned-off smoking room. Very different to how it used to be but still cool in its own way.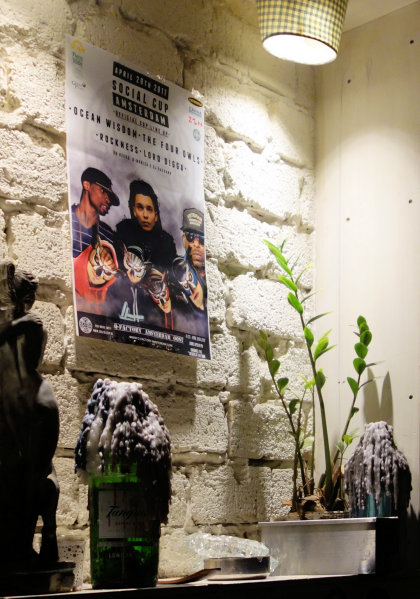 Bones and Co smoking room
The eight of us settle into the tobacco-free bar area at the front with our beers and joints. A nice little social ensues.
After a good session there we move on to
Lost in Amsterdam
.
J likes this place and it's on the way home for some of our party. A last drink and spliff and then we call it a night.