Day 5 - Saturday 20th April 2019
Yet again the sun is shining. It looks like a wonderful 4/20 day is in prospect. Messages are flying around. RoMoney is working on a campaign to capture the big table at the back of 420 Cafe. Many are planning a visit to an event at Noorderlicht Cafe, across the IJ, first. Various rendezvous at Voyagers at different times en route to the ferry are being proposed.
It looks like everyone will have moved on before the original suggestion of 1pm at Voyagers but I feel I should at least poke my head in there first. So, I cross the Damrak, find no one at Voyagers and continue under the tracks at the eastern end of Centraal Station.
IJ
In the above picture we're looking along the IJ towards the North Sea. Centraal Station is out of frame to the left. A'dam Tower and the Eye are on the right. In the distance, the tall building on the south bank is Pontsteiger and the cranes of NDSM are just visible on the north bank.
I walk along the waterfront to the NDSM ferry terminal and board a ferry. I like riding the IJ ferries, although this one is quite crowded.
NDSM is very different to the centre of Amsterdam. Whereas in the centre everything is squashed together, here there are huge buildings with vast spaces in between.
My understanding is that Noorderlicht is at the end of NDSM-Plein, one of the main drags through here. As I approach the end I encounter a checkpoint that appears to be the entrance to another event. I get chatting to a lady pushing a bike who is trying to get to the same place as me. She has a conversation in Dutch with the security guy and receives directions. The pair of us then walk back to the centre of NDSM and on towards the rear, almost as far as Funny People.
We're now in a stream of people being channelled towards something. Hopefully the right thing. We seem some distance away from Noorderlicht so maybe the event is at a different venue.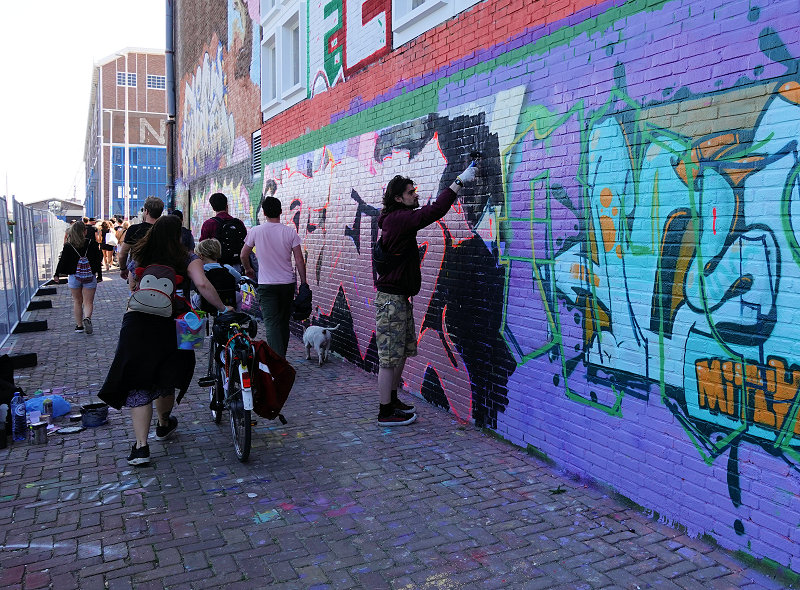 NDSM
As I contemplate this prospect, I suddenly spot a bunch of familiar faces walking the other way. There's Cool_Chillum, Danny211204, Drugsbunny, Matty223, RoMoney and Smirks. They confirm that this is indeed the right place and that there are still a couple of members inside but that they are moving to Baba for a quick stop before 420.
I decide to join them and we make our way back to the ferry terminal where we encounter more confusion. One of the ferries is clearly going to Centraal Station so we get on the other one, assuming it must be bound for Westerdok.
The ferry docks and I manage to get all the way up the ramp before I realise we're not where I expected to be. I turn, as if towards Baba from the old Westerdok terminal, and see a tower.
Pontsteiger
After grabbing this picture, I turn back the other way again because Baba must be in the opposite direction if we're here. The ferry route has clearly changed since last year. We're about the same distance from Baba but I don't know the exact way from here. Fortunately Smirks is on the case and has already plotted a course on his phone.
Turn right here
A short stroll and we all pile into Baba. This relatively new shop has continued to develop with seemingly more carvings and a nice graphic on the front window. As usual, I can't remember what we consumed here (sorry, maybe others can fill in) but I know I was extremely stoned all day.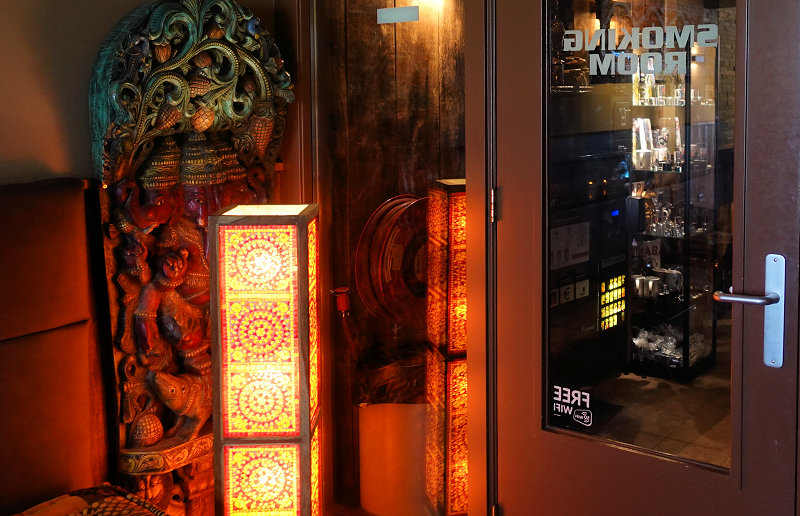 Inside
Baba
Although we haven't been here for long, it's already approaching 3 o'clock and we're quite a long way from 420 Cafe. The consensus seems to be to walk, rather than ferry via NDSM. This party of seven is not going to march at my pace (nobody does, to be fair!) so we start to consider moving.
It's a lovely day for a walk. There's a clear blue sky as we pass Westerdok, along Haarlemmerstraat and onto Nieuwendijk.
Westerdok
Arriving at
420 Cafe
, we find it very busy inside. Not only is it 4/20 but it's also Saturday and Easter weekend. It's not 4:20 yet so we decide to pop next door for a beer.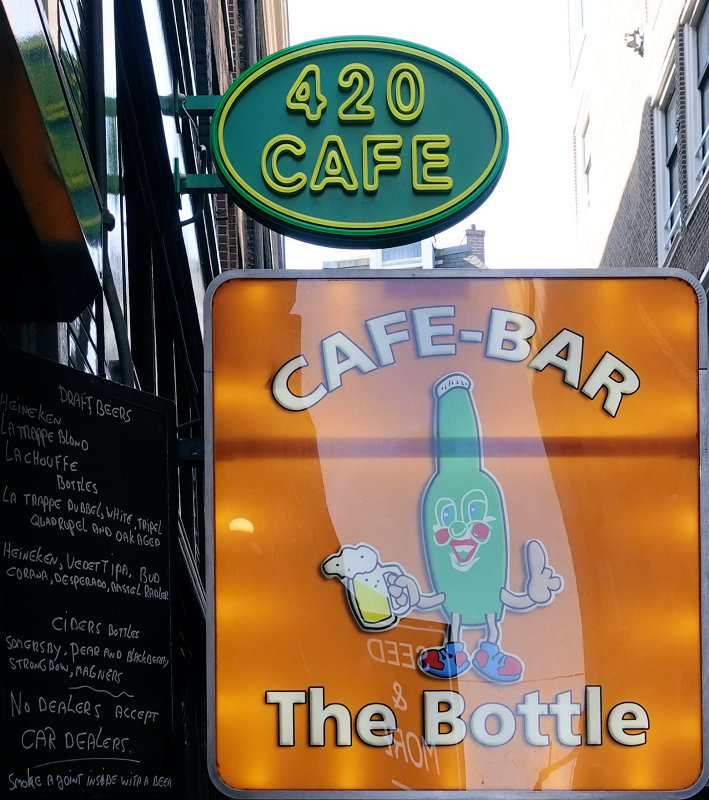 The Bottle
Outside The Bottle we find an ACD session has already commenced in the narrow alleyway. Settled in we now have Cool_Chillum, Mr & Mrs CopenhagenCouple, Hestia, RoMoney, Sanchez_, Smirks, Trad and me. Then we're briefly joined by Talkrum, so that's another member I've met to add to my list.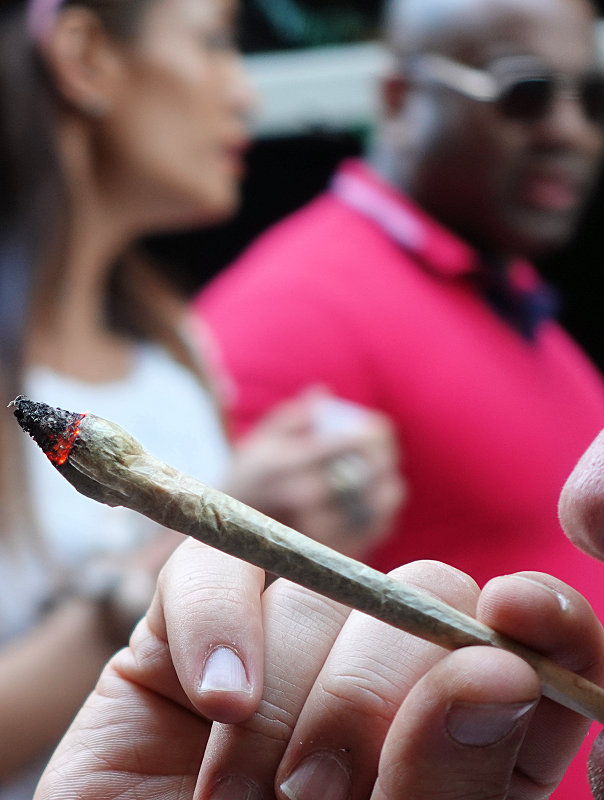 From The Bottle I pop into Plug Lounge with a few of the crew and then drop by the apartment on my way to Paradox.
I get a message from Captain James to say that the boat is outside Greenhouse Centrum rather than Keizersgracht. This is a bit of a pain because everyone is meeting at Paradox, some distance from Greenhouse Centrum. It's a bit late to change the venue now so I head off to Paradox and prepare for herding cats across town.
In Paradox we scurry around gathering pieces of Volcano until we've assembled one working example. We fill a few small bags before somebody finds a mega-bag.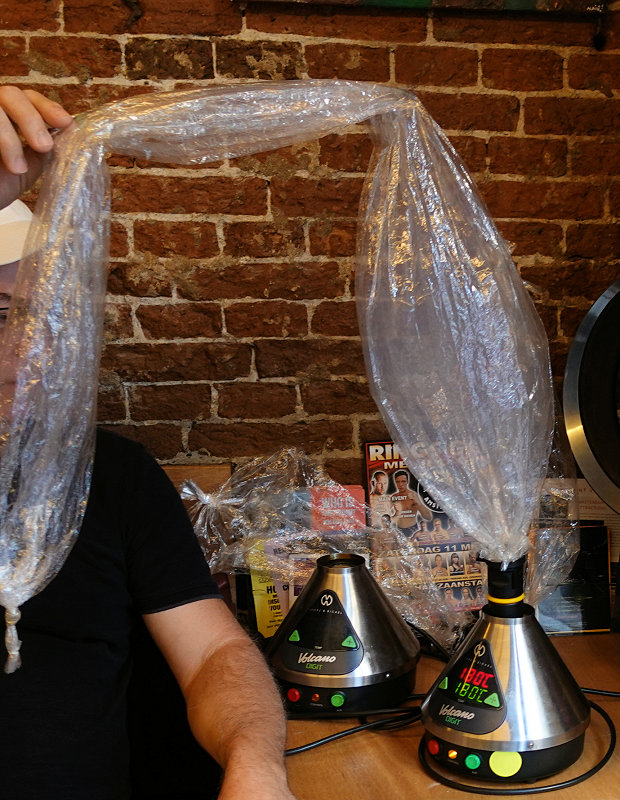 Paradox
All of this vaping is probably not conducive to successful cat herding and we already seem a little short of bodies, although I'm way beyond being able to count.
For the second time today we need to get a party across town by a specific time. As yesterday, trams are only helpful for one stop in the right direction so all those of us without bikes are walking. Chances of cats in canals seem high.
So far this year we've been remarkably efficient and punctual, as if we're not stoned enough. Now I think we may be back to our usual shambolic form.
We set off from Paradox already lacking some people. As we cross the Keizersgracht, Mr CC says the TransApenninesCouple are unaware of the new departure point. We're now close to the jetty where we were originally supposed to be boarding but we're running late so I ask Mr CC to check the jetty on his bike.
At this point I wonder whether we're about to lose more people but I'm looking in the wrong direction. Unbeknownst to me at the time, Trad has stopped for a cigarette. The bike crew shoot off in one direction and us walkers in another, oblivious to the fact that we've left Trad behind.
We arrive outside Greenhouse Centrum a bit late. The CopenhagenCouple and TransApenninesCouple have made it but we still only seem to have 8 of the 12 people who said they were coming. Apparently Hestia is out due to injury. We lost Trad along the way and nobody has seen the Mackys all day. Cool_Chillum makes our numbers up to 9 and we climb aboard.
The refurbished boat is ridiculously smart. Shiny woodwork and padded seats. I've got a great picture of Smirks looking very relaxed in the throne at the stern. You'll have to imagine that unless he says I can post it.
We sail off in daylight. First out east, past 't-Kromhout Museum and around Plantage Muidergracht.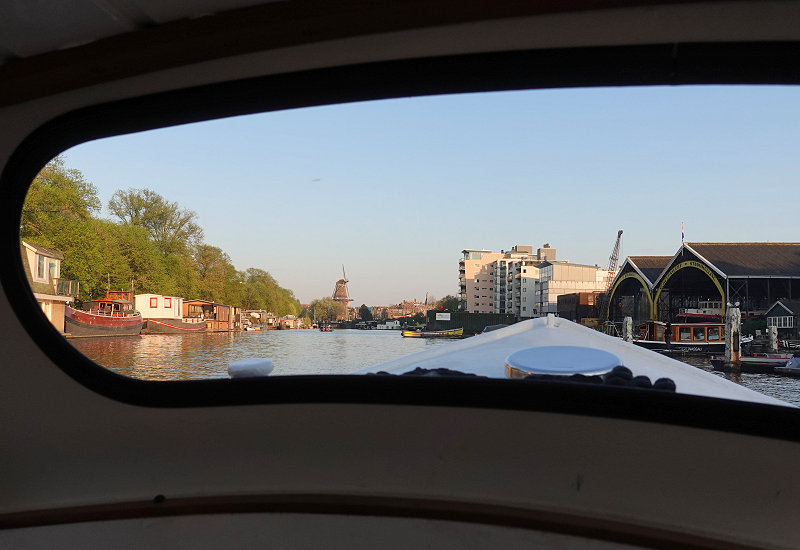 The boat clock is always right.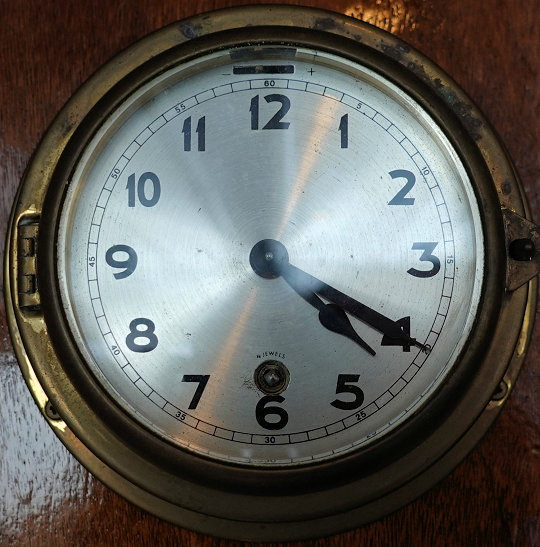 I've got a great picture of the TransApenninesCouple with a sinking sun behind. You'll have to imagine that one too. [If anyone wants the pictures of yourselves, just bung me an email, incidentally].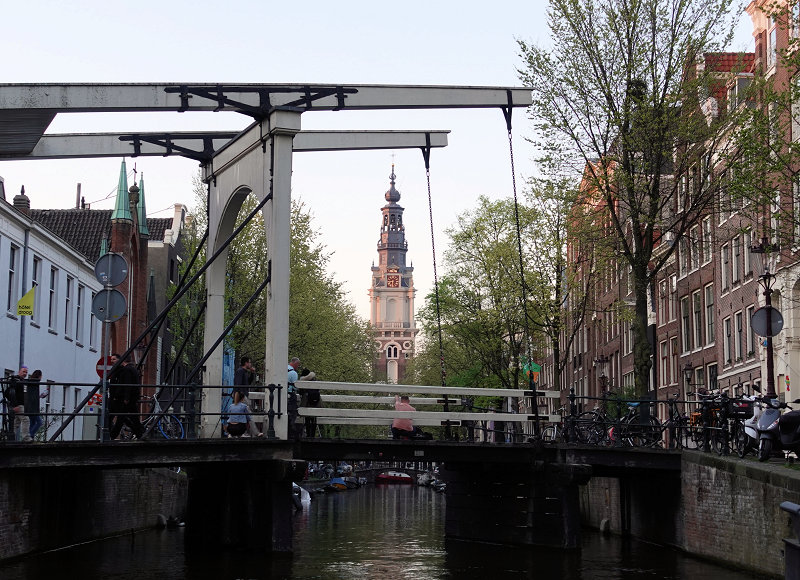 Staalmeestersbrug
I've taken loads of pictures of this Zuiderkerk vista from the bridge over the years. Now as we sail under it I get a different angle.
Meanwhile, in the cabin, all of the kit is out.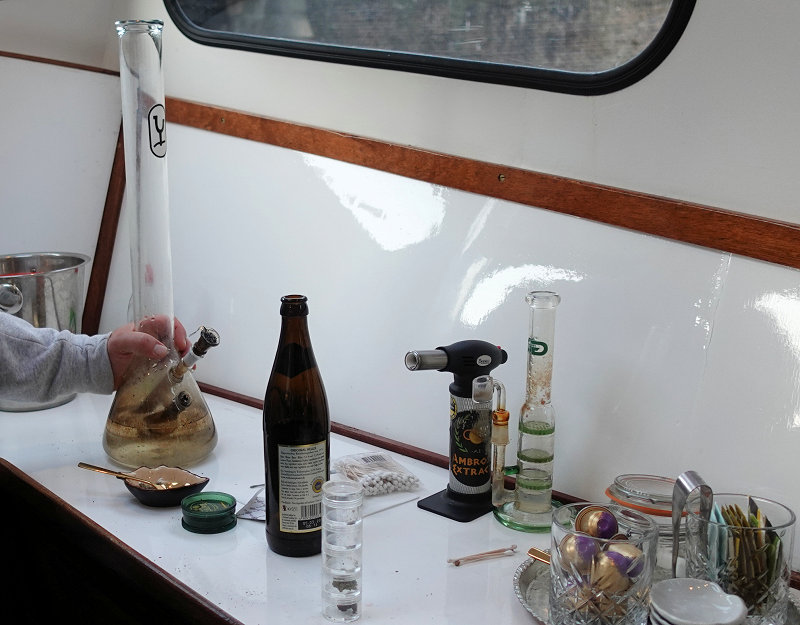 As it gets dark I have a quick go at capturing the lights on the bridges.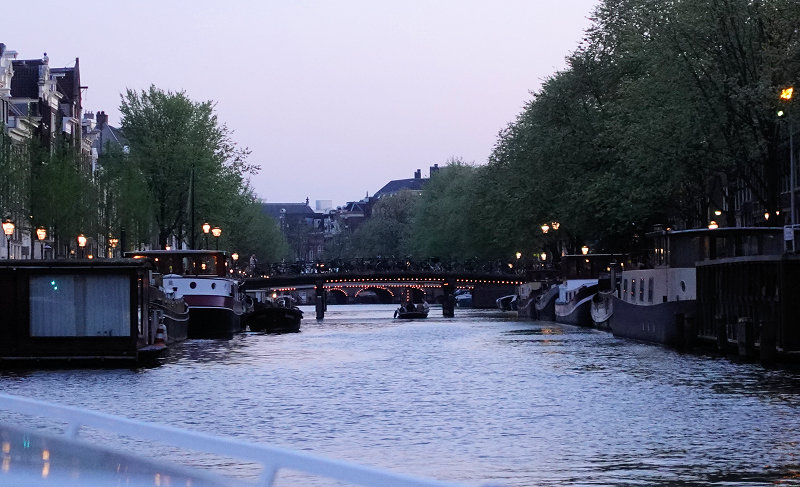 The final session of the day is at Batavia with Drugsbunny, Gapie, Matty223, Smirks, Trad and me.
Haarlem tomorrow.