Friday 18th April
I've been visiting Amsterdam regularly for at least 20 years but it's still exciting waiting for that train from Schiphol to Centraal. The familiarity of the signs induces a warm glow.


We arrived at the apartment about 5pm. The weather was lovely and so much better than what we left in the UK or what had been predicted for the weekend.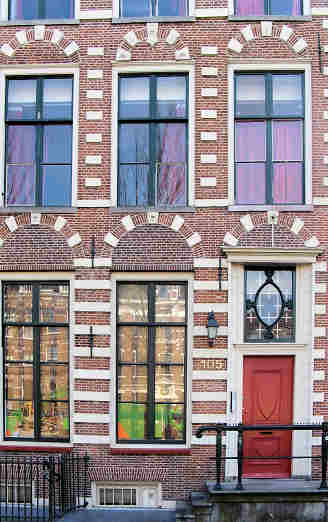 The apartment is well equipped with several bongs and this box with pipes, papers, grinders and some hash and grass. I immediately rolled a joint much stronger than I would have at home (this picture shows the empty bags afterwards).
We were supposed to be meeting up with Emmett of Amsterdam Escape at their office before going to Basjoe. The joint slowed us down a lot though so we were very late and he'd given up and gone home by the time we got there. Amsterdamned already!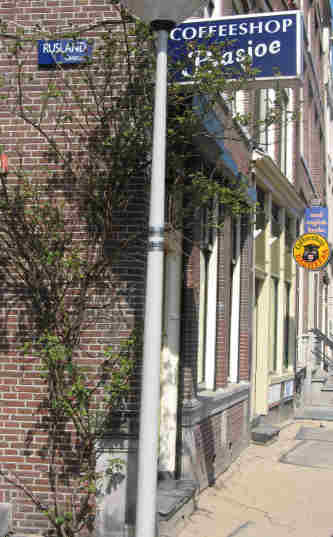 We went to Basjoe anyway and met James who is one of the proprietors there. James has probably the longest dreads I've ever seen. Got some very nice Orange Bud there and smoked another pure joint.
The girlfriend is not an enthusiastic stoner so didn't partake as much as me. By this time I was largely relying on her to remind me of what I was supposed to be doing from one second to the next. She led me into a nice Italian restaurant on Kloveniersburgwal, just by the Nieuwmarkt, which was very nice.
Needless to say we were late getting to the Nes.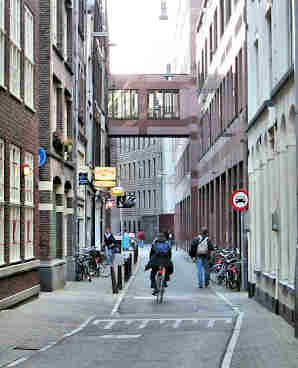 't Nes Cafe on the Nes
The Nes was quite busy and noisy. We found DC, AzLaker and his daughter towards the back, sharing a table with some poker players. Also there were Back2thedam and BluMing, whom it was also great to see again. Then I met two new people, SlyCrayon and itsmymagicallife. Itsmymagicallife is an Amsterdam resident so has lots of useful information and insight. SlyCrayon was doing the IC Mag cup and she had a pile of samples.
We heard about the many events going on over the weekend (cups, weddings, etc.) but communication was limited in the noise and haziness. In the crowd, Back2thedam, BluMing, SlyCrayon and itsmymagicallife were stuck behind us and we had our backs to them for much of the time. Not only was I very stoned but my voice was getting hoarse from the combination of smoking and shouting.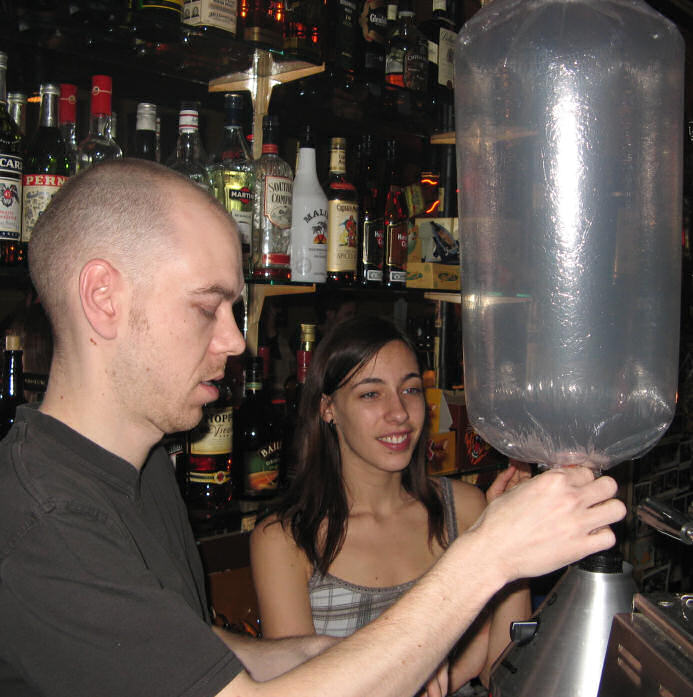 DC and his glamorous assistant.
DC did us proud again. In addition to the Verdamper, he'd got a brand new Volcano. It's a newer model with a different filling chamber and disposable bags (particularly useful in a busy bar). He was vapourising ice hash in it so things got very stoney. With several bags circulating most of the time and beer flowing it was definitely party time. When we left, DC presented us with a well-packed joint to take back to the apartment as a nightcap. Thanks for everything DC.
The first day in Amsterdam is always an intense experience. It takes a day or two to get into the rhythm and learn how to function whilst very stoned. It must be even more extreme for people on daytrips like Rez and BhangBuddie who never had a chance to get past that first day euphoria and befuddlement.
Saturday 19th April
Saturday was intended to be a relaxed day and, indeed, it was. We had vague ideas about museums, shopping, visiting and photographing lots of coffeeshops. These ideas became very vague after the breakfast joint.
Found a nice eetcafe for breakfast and took a stroll around the Waterlooplein market. Later we wandered over to the Jordaan and, eventually, into Sanementereng. On the way we popped into Grey Area. I noticed that they have a digital Volcano and there was a long queue to see Jon at the counter.
This is an amazing shop. It's mostly a sort of antiques shop but also a coffeeshop. There is a small bar at the back and three levels with a table on each. There's stuff everywhere and it's all for sale. It makes a very nice environment to get stoned in.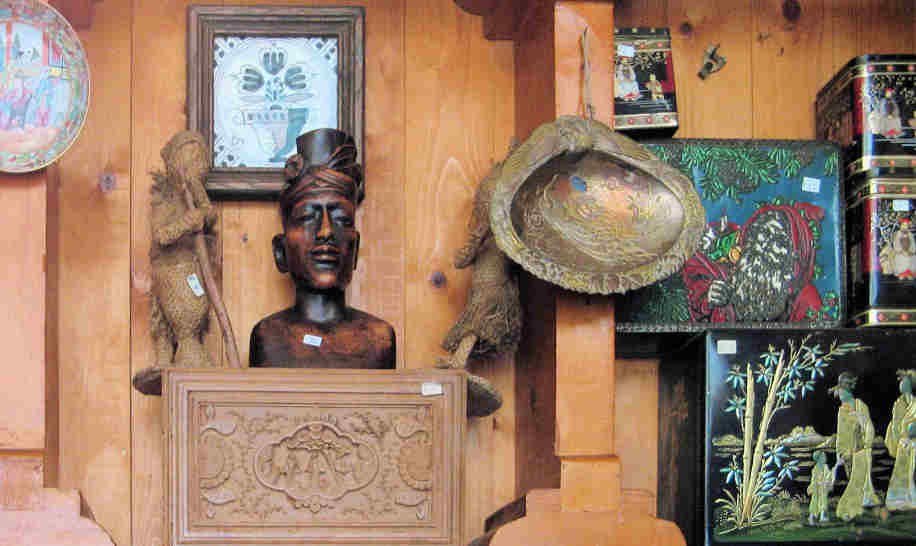 We got some Powerplant and some African weed to use as a filler. This was a nice smoke accompanied by some good reggae and ragga music.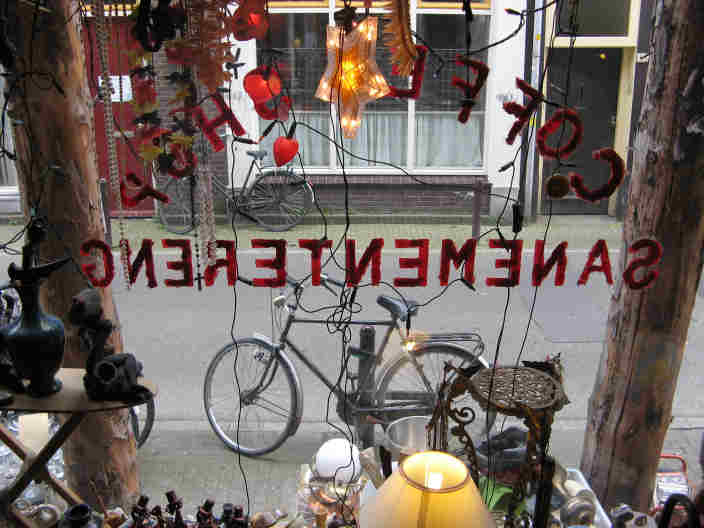 We didn't get around to going into any more shops around there but got some new pictures of Paradox, Flower Power and Biba. We also got to visit a few art galleries, which was the girlfriend's main objective for the day.
From the Jordaan we went to the Leidseplein and Boom Chicago to find out about the St. Nicolaas boat trips that we'd heard about on this forum (
https://www.coffeeshopdirect.com/forum/viewtopic.php?t=4762
). We found the little book and signed up for the Monday evening trip. Had a beer there, a pizza across the Leidseplein and a joint in the Rokerij before heading back into the centre.
Sunday 20th April
420 was another nice sunny day. Had a coffee in Balou then breakfast in the apartment with some wonderful stuff from a nearby deli.
It was soon time to head for De Kuil for the 4:20 session.
All of the people from Friday's session were there plus a few more. Internet names I recall include (in alphabetical order): AZlaker, Back2thedam, BhangBuddie, BluMing, DC, Itsmymagicallife, Optimo, Redeye, Rob_OG, SilentlyScreaming, SliderD, SlyCrayon, Smellyhippy and Twitch. Including our various partners and friends, we filled the rear section of de Kuil.
As Twitch was disappointed at the lack of 420 celebration last year, I presented him with a bag of Party Blowers. 4:20 was suitably marked and nobody had an excuse for missing it.
BluMing and Back2thedam are made for each other. On Friday, when I was staggering around in a daze, they were complaining that nothing in the coffeeshops was strong enough for them. By Sunday they'd found something that worked and usefully consumed everything that nobody else could manage. Fair play!
The migration to Nes started quite soon after 4:20. We stayed on for a while in de Kuil and chatted to SilentlyScreaming and his charming partner, BhangBuddie, Itsmymagicallife and SlyCrayon.

Looking down Damstraat. Nes is the turning on the right.
Eventually we moved to the Nes with SilentlyScreaming and partner. We again hung out at the back of the bar. It was here that we met SilderD and friend, who had apparently been trying to catch up with us all weekend.
Later that day we had a nice Indian meal and popped into Het Ballonettje and Hill Street at the Market. I got some White Russian and some Polm but can't remember which came from where.
Monday 21st April
As predicted, after the heavy session on Sunday, we didn't rise very early on Monday. 10am in Haarlem wasn't happening. We eventually got there about 2pm.
It was a shame to see WW Sativa closed ...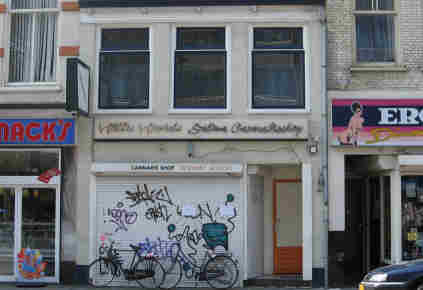 ... but good to see WW Indica at last.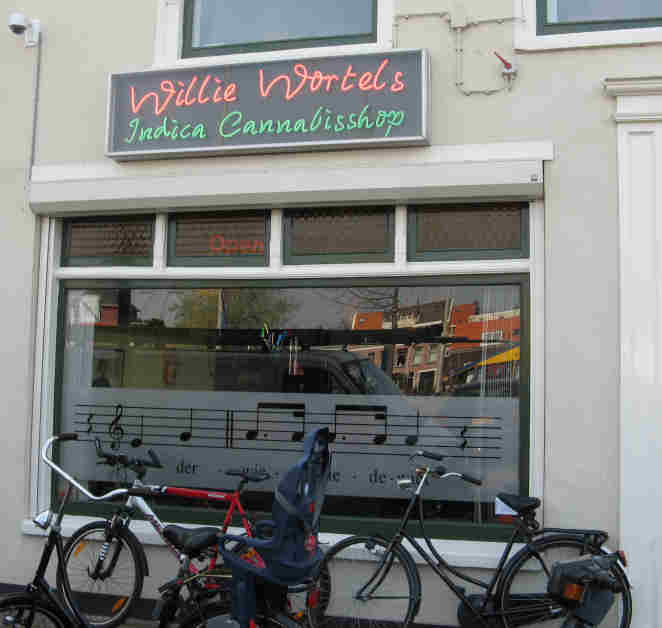 Checked out the apartment above the coffeeshop where we found Twitch alone. A bunch of people had gone on an excursion to Zandvoort and checked out Yanks coffeeshop.
Gotta say, the Indica apartment is very nice with this view over the Adriaan windmill. Had a Volcano and a joint with Twitch while we waited for the others to return.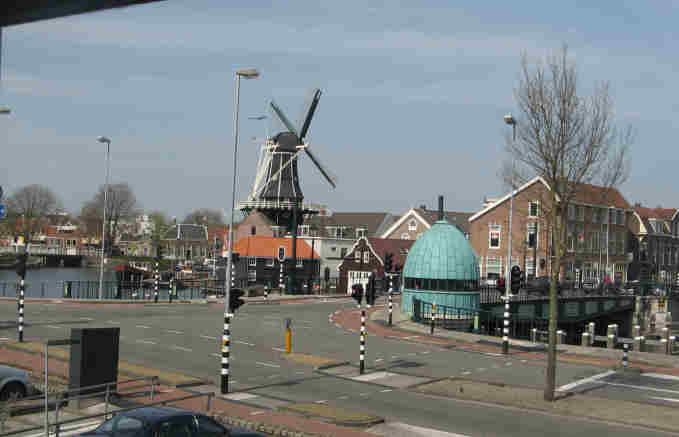 Rez and the others soon returned but we were already late in getting back to Amsterdam for the final meet at the Nes.
More Volcano bags and beers were consumed. Chatted with various people. I think the only person there who wasn't at the Sunday session was Rez.
Dinner was Greek near the Leidseplein and was followed by a boat trip. On arriving at Boom Chicago we unexpectedly found SilentlyScreaming and his partner waiting for us. This was an excellent surprise and the four of us were taken out on a wonderful tour on a small open boat. I can certainly recommend the St. Nicolaas Boat Club. Smoking is permitted on the boats but it's worth pre-rolling as it can be a bit breezy on an open boat.
After the boat trip we popped into the Dolphins, chosen because I thought the girls would appreciate the comfy sofas in the basement. We had a good blast on some White Dolphin there and spotted this row of vaporisers.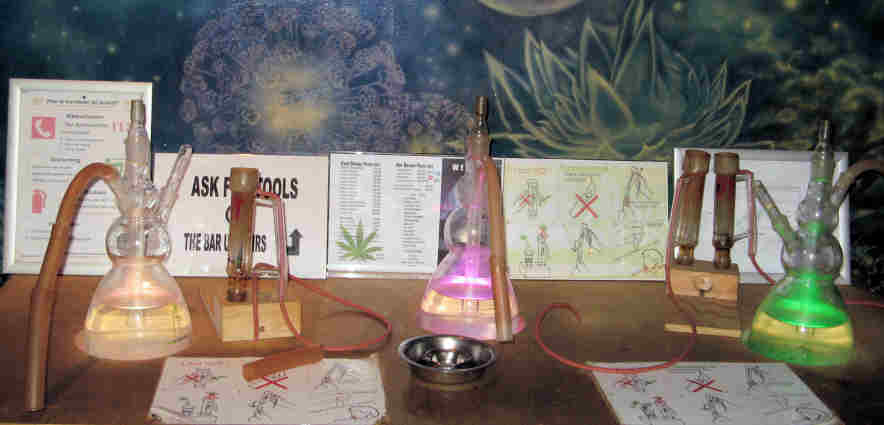 Overall it was a fantastic weekend. Thanks to everyone who turned up at the various sessions. It was great to see all of the regulars again and to meet several new people. I hope I'll see you all again somewhere soon or, at least, at the next "420".
Apologies to anyone I forgot to mention. I know there were also several other people supposed to be in town that I never saw but this is about par for the course in Amsterdam. There were many other events going on including Dopestock, IC Cup, a concert for Tibet and a wedding that we never got to see. If we missed anyone due to our fault (e.g. being late) then I'm very sorry. If you got stoned and missed us then I hope you had a good time.