Ban on all mopeds on some Amsterdam cycle paths next April
Society
December 18, 2018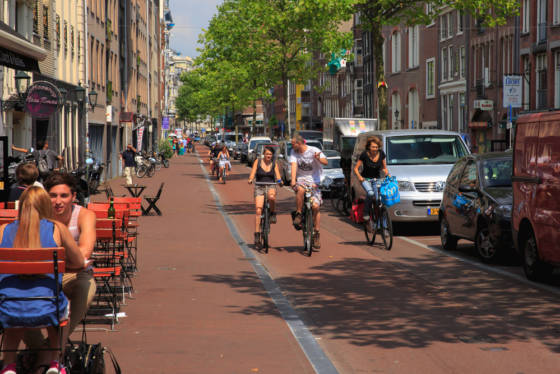 Bikes only.
Photo: Depositphotos.com
Amsterdam is banning snorfietsen, or low-powered mopeds that have a speed limit of 25 km/h, from most of its cycle paths inside the A10 ring road from next April.
The presence of the snorfiets on cycle paths has long been a bone of contention in the capital because their speed, which in most cases exceeds 25 km/h, makes them dangerous to cyclists. The number of snorfietsen has also increased from 11,000 in 2008 to 35,000 this year, according to the Parool.
Officials expect that relegating snorfiets users to the road will bring down the number of serious traffic accidents on cycle paths by 261.
Last December parliament passed a law which gave local authorities the right to impose helmet use and Amsterdam is the first city to have done so. Helmets will be now compulsory for all scooter users in the Dutch capital from January 1.
The ban will come into force from April next year but not all cycle paths will be snorfiets free. The exceptions to the rule are very busy roads, such as the Wibautstraat, De Ruiterkade , Prins Hendrikkade and Stadhouderskade and all bike paths outside the A10 ring road
People who ignore the new 'Snorfietsen niet toegestaan' signs risk a fine of €95.
dutchnews