Viva Cani Sciolti
FINALLY able to return April 2022
This time with GAPIE and AZLaker in tow, quick tram ride out to CENTUURBAAN.
Ceintuurbaan 233, 1074 CW Amsterdam, The Netherlands
Their popularity increasing, I made a reservation ahead of time. The reservation was for 2, with Gapie a last minute add on. I ventured with confidence on account of my good membership in the Cani Sciolti and the beautiful natures of owner/operators Davide and Manuel.
We showed up to hugs and warm welcomes. It was PACKED. Manuel was surprised to see us, checked his reservations and discovered that this stoner made a reservation for Tuesday not Saturday
We're set up with a nice table outside, all alone for the time being. I ask Manuel to choose from the menu today and surprise us but not to forget the wine. He arranges a beautiful antipasta plate for 3, bread, evoo and wine and away we go. We're able to enjoy smokes before and after courses. Before long, Italian speaking diners occupy the other tables outside, always a good indicator of authentic cuisine.
For main course, Manuel includes a recent addition to their menu - handmade pizza. He keeps that simple with a Margareta and couples it with a beef ragu on their fresh handmade pasta
last but not least, a perfectly cooked, tender grilled steak with arugula.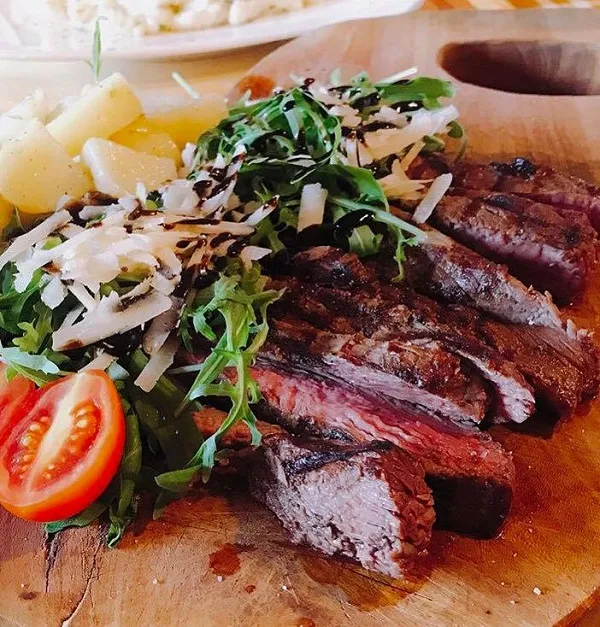 We DEVOURED it all with gratitude.
DEFINITELY recommended for anyone who loves pasta, pizza, authentic southern Italian cuisine, beautiful humans.
https://www.casanostrakitchen.nl/
Our Passion
We are Manuel and Davide, two passionate cooks, in love with our work, hence why we want to share the flavors and aromas of our land. We learned by watching our mothers and grandmothers at work in the kitchen. They taught us the value of good food and how important it is to give people a moment of pleasure; for our restaurant we choose only the best ingredients and we process, mix, and cook them with care and love. This is the Italian tradition.