Day 1 - Sunday 15th April 2018 - Arrival
I arrive at the airport to find that my flight is delayed. The time soon passes with food, drink and the Forum on my old tablet via wifi. In the end I'm less than an hour late arriving at the apartment.
This year it's
Golden Triangle Loft
, conveniently located near Lost in Amsterdam on Nieuwendijk (much thanks to
AmsterdamStay
for organising this for me). It's on the top floor, up one of the best Dutch staircases I've ever encountered.
The steps on the first flight of stairs are overlapping like a ladder!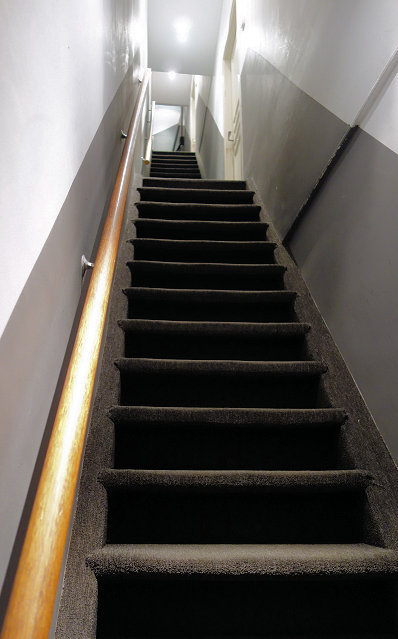 There are three flights of stairs to the top, although, to be fair, they get slightly easier
Reaching the top and looking back down
That's my foot in the doorway of the apartment. The light switch is on the wall opposite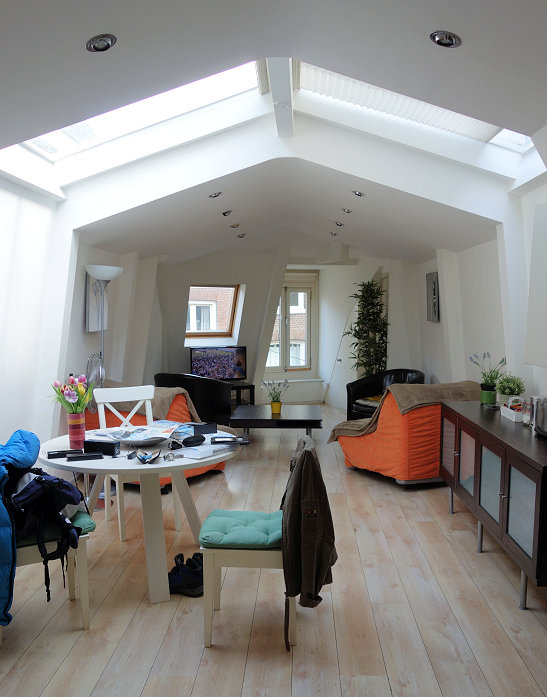 Golden Triangle Loft lounge
Inside, the apartment is bright and spacious. It looks like I'm going to have a very comfortable stay.
First mission is to the nearest AH supermarket and nearest coffeeshop for provisions. I manage to negotiate the stairs smoothly and I'm feeling quite efficient until I discover that the Albert Heijn is closed.
OK, let's find a coffeeshop and worry about that later. I select Amsterdamned (formerly Picasso) pretty much at random.
Amsterdamned
Nothing on the menu is jumping out at me so I just grab some Silver Haze and a bit of Orange Bud for old school flavour.
Last year I was wishing I'd brought a marker pen to write on bags. This year I'd planned to rectify that but now realise I've forgotten again. When I mention this, the budtender kindly writes on the bags for me (more on marker pens tomorrow).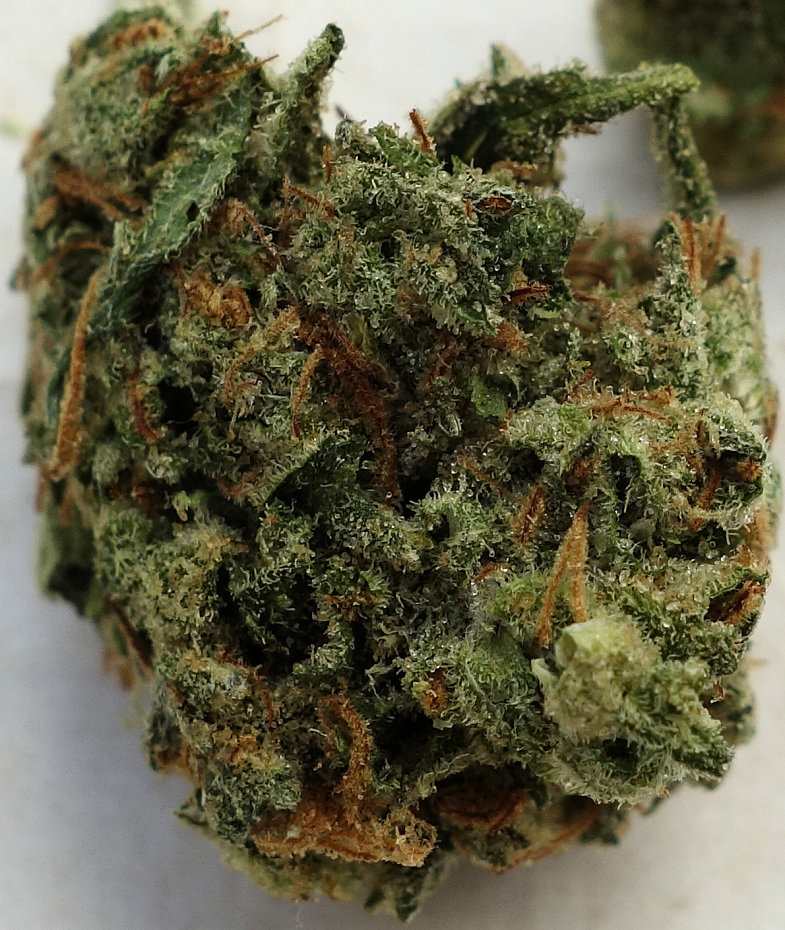 Silver Haze from Amsterdamned (old Picasso)
Orange Bud from Amsterdamned (old Picasso)
Walking back, I look around for a shop but nothing is open so I return with not even milk for my tea.
It's time to head for Batavia to catch up with any other early arrivers. Rounding the corner I see that the frontage has changed. The covered terrace has gone and the door is further back. As I open it, I'm joined by the CopenhagenCouple so we all tumble in together. Downstairs we're joined by Pierre von Mondragon and Comus.
A serious session is soon in progress and I have no memory of anything after that.
My next memory is much later, on my way home, I get a large carton of Chocomel from a takeaway. That'll keep me going until the supermarket opens in the morning.
So, we're off to a great start. Plans for Baba and ferries tomorrow...