ACD page:
Splif II, Purmerend
I'll try to ask if it's OK to take a picture of the menu but it's basically almost the same than this
one.
I'll also update the thread with photos of the CS because it's really a nice one, full of locals. The only other CS in Purmerend is for purchase only and I'll add a review of it soon
The CS

I really enjoy the mood there, most of the customers are locals and there is a lot of regulars. The decoration and the furnitures makes it looks like a cool and simple bar. The seating is the only downside and the reason I don't usually stay more than 1-2 hours there : there only are bar stools and although decent, I like to lay down like a dying animal after a few joints
There are two tables near the windows which are my fav place to chill as the outside view is quite nice.
There also is an arcade machine with a big digital touchscreen incrusted on a table, you can play various games and
there always is quite a crowd around. Also, the staff is awesome and very friendly to non-local.
They open from noon from to 10pm everyday.
Weed / Hash
This is a weed coffeeshop for me : the hash is good but it's a bit too expensive as there is no 5G deals. Everything is pre-bagged at 10 euros which is the highest price / g I've seen there in 5 months. I know pre-bags aren't to everyone's taste and I strongly advice to quickly check the looks and the smell of the weed. I did check 10+ bags, the amount was always correct and sometimes a tiny bit more.
The only strain that disappointed me (I tried all the regular strains) was the Gorilla Glue which really can't hold up to its sister version Gorilla Glue #4 but at 9.10€/g, it's still a good smoke. Outside of that, the quality is really good and far superior to some pre-bags I've bought in other CS. There are 2-3 strains which change on a weekly/daily basis and it has not let me down so far. They had an excellent OG kush and the best blueberry and ak47 I've tried yet. I
They offer either free lighter/paper/tips or a free hash/weed joints (if you're going for the free join, go hash, the weed one is sometimes too light.) at 40€ euros purchase (maybe at 30€ too, not sure)
Bonus photo # 1 I go there way too much… It's the only one I have atm that is mine.
Bonus photo #2 - One of the few pics that I found online which shows the interior of the CS :
Sorry for the lame google view capture, I'll update it asap but that's the sweet view you get when seating near the windows :
Side note about Purmerend
Despite having 80k habitants, the center is quite small (its a 15-20 mins walk maximum) but it's quite lovely. It's mostly local with the occasionnals expats like us. However, there are a lots of restaurants and brasserie where you can relax with a good and cheap beer
It use to be famous for its cow market and was basically a farmer/fisherman small town until the 70' when all this changed with the needs of more habitations around Amsterdam.
Despite being lovely (I love my new town!), I wouldn't advice it against the likes of Haarlem, Leiden, Hoorjn, etc. but I've heard that there are cheap b&b/airBNB and we are only 25 minutes away from Amsterdam Centraal with buslijn 301
Few images :
The koemarkt, the big place where there are a lot of bars/restaurants, 2 mins away from Spliff II and 5-7 minutes away from Anna.
The center of the city is surrounded by canals, as often in the Netherlands, this one is 2 mins away from my home :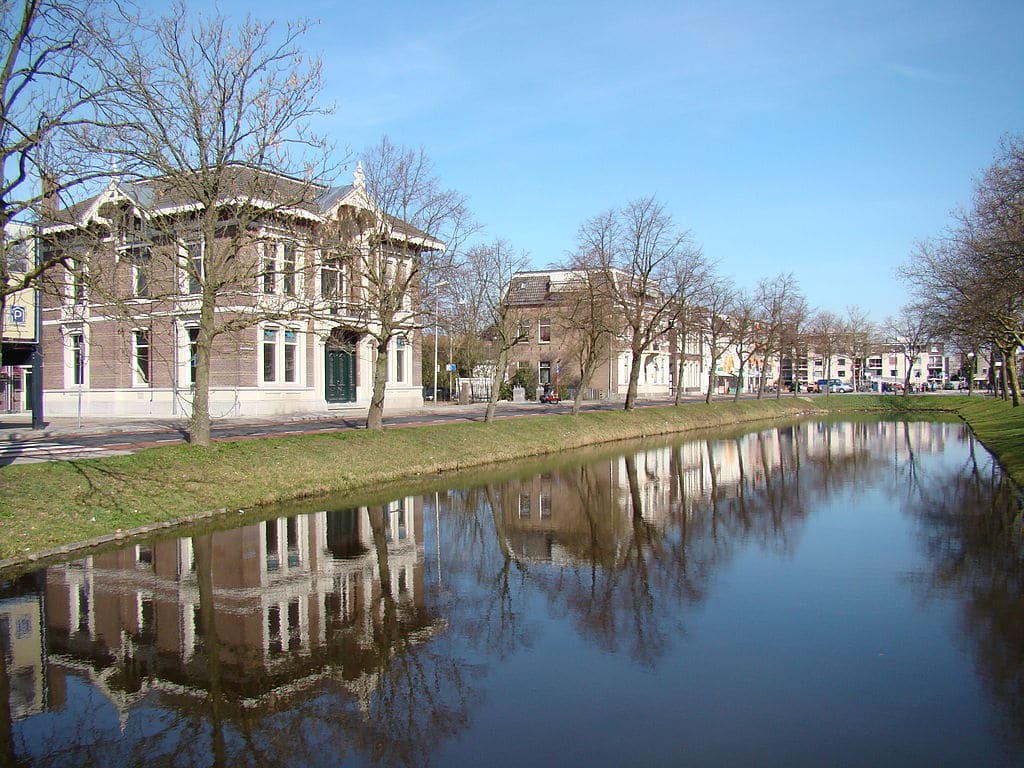 I hope you'll enjoy it and I'll try to update it with more pictures ! Feel free to drop me a PM if you plane to step near by